| | |
| --- | --- |
| | Nutrition Facts Database Online Demo |
Keep in mind the very simple facts. Nutritional facts are printed on packaging, and nutritional facts are available online. Product packaging changes, and online sources are for the most part inaccurate.
We have developed a database of vending and food-service products to resolve this issue. Our database takes into account future product changes (from ounce servings to new packaging photography), which is updated in real-time to your Membership Package.
There are multiple ways to present Nutrition Facts using our national database:
A: Product Name Search - start typing a name and the form field will auto-populate
B: Product List Search - search through a list of available products
C: Product Image Search - select a product image to view its nutritional facts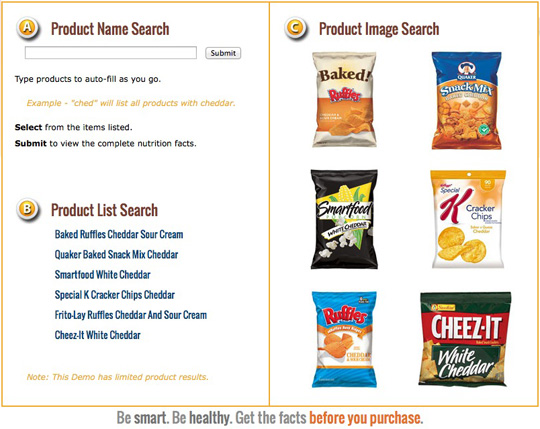 ---
How Do I Get Started?
Contact our Graphics Team by selecting the Contact Us - Software Division button to the right. Our online form will take a few minutes to complete. This will allow us to best address your needs.
A Membership Manager from our Software Department will contact you shortly.
| | |
| --- | --- |
| | Demo Run |
Take a tour of our online database to see how it works.
Our online demo is limited to a variety of products that include typical snack, healthy snack alternatives, and specialty items.
We will gladly customize your Membership to reflect your product inventory.
---
| | |
| --- | --- |
| | Current Press |
Read articles and view recent news videos about the healthcare law and how it affects the vending industry.

---