| | |
| --- | --- |
| | Food Service and Vending Area Treatment |
As with our Machine Label and Glass Graphics Solutions, we realize there are a variety of vending machines, point-of-purchase devices, and kiosks in the food-service and vending industries that require an additional level of advertising. There are common situations which require graphic applications to a "bank" (or an array of multiple machines). For this purpose, we have coined the phrase Area Treatment to describe and standardize a family of graphic products. The Area Treatment Product Definition:
Area Treatment - Any graphical element requiring additional substrate (top caps, side-view trim caps, etc.) that mechanically mounts to multiple vending machines if not including the surrounding area facade. Common purposes include company and/or customer branding, or promoting food-service programs.
Before Illustration:
After Illustration:
This example illustrates a vending machine bank in a poor lighting environment.
Our solution is to mount a 3-D digital print on a backboard, with a centered LED back-lit arcade.
---
Before Illustration: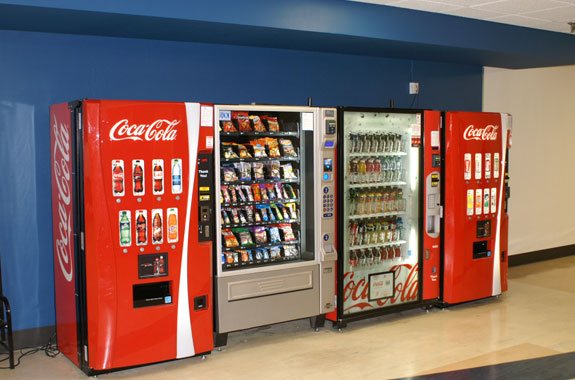 After Illustration:
This example illustrates a vending machine bank for a recreation center.
---
There are a multitude of benefits to utilizing professional graphic designers for your promotional needs. Our Design Team focuses on:
• Working with you to identify your needs
• Providing design concepts for your unique applications
• Delivering quality results
Our designers work hand-in-hand with the machine operators and all fabrication artists throughout each step of the production process of every project.
The Multiple Media Network offers the best advantages. From initial design concept, throughout production and until completion - we deliver, ready to install. And ready for results.
---
Why is this important to your Business?
Your Image is everything. Why not consider looking your best?
We serve the Vending and Food Service Industries nationally. While we treat each project individually, we have back-end systems implemented that group similar orders together in production, and spread the discounts as if buying in bulk.
By joining the Multiple Media Network, you will not only have access to top-notch designers in all areas of media (print, web, marketing), but you also be able to take advantage of our collective buying power on raw consumables (production materials).
This ensures the quality, high-impact designs, made to order, using the most durable materials - and at an affordable rate.
---
How Do I Get Started?
Contact our Graphics Team by selecting the Contact Us - Graphics Division button to the right. Our online form will take a few minutes to complete. This will allow us to best address your needs.
A Project Manager from our Graphic Design Department will contact you shortly.
| | |
| --- | --- |
| | Design Services Portfolio |
View examples of our Design Services using our Online Portfolio. Check out projects from the initial design concept to completed photos in the field.
---
| | |
| --- | --- |
| | Full-Service Graphics Staff |
The Multiple Media Network includes graphic artists, production artisans, and fabrication specialists.
Our Team works hand-in-hand throughout each stage of every project. This ensures our high-quality results. By grouping projects nationally (raw material costs, maximizing material usage), we are able to offer high-end, yet cost-effective results.
Our Network Services include Commercial Printing of:
• Mail-Out Thank You Cards
• Open-Window Envelopes (billing)
---
| | |
| --- | --- |
| | Additional Graphic Support |
Our Graphics Team is often asked to produce "specialty" design projects.
The Multiple Media Network Design Team welcomes the opportunity to assist you in designing:
• PowerPoint Presentations
• Word Document Templates
• Formatted graphics for print use
• Formatted graphics for web use
In short - if you need to look good, you need us. And we welcome any challenge.
---